"
There are times I am convinced my wife no longer finds me attractive. She walks around in her "all business mode," rarely smiling, and even speaking to me in a cold tone. We're in our forties, and yes, both of us have changed a bit since our twenties when we met. I've gained a tiny bit more weight than I want to, and so has she. But it's nothing grossly out of proportion. We both work long hours and have teenage children which means they are a major part of our day and evening. Because of that, sometimes there are weeks where it's hard to find time for sex. Thing is, I don't like "no," I don't like authority, and I don't like generalizations about age, marriage, and sex. So, just when it seems like my marriage has become impotent, I make damn sure to bed my wife with all of the passion of my twenties. The result—always—is her completely restored mood, the smile that returns to her stunning face, and the way she seems way more relaxed as she goes about her stressful day. She's herself again. I say, to hell with therapists—sex is the best marriage counseling any couple can find.
"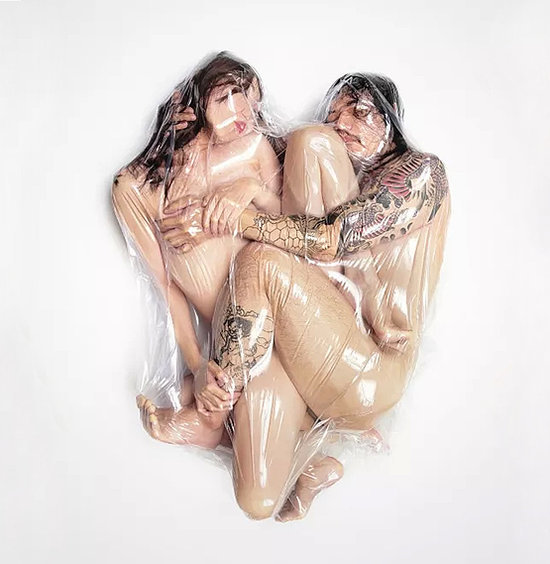 Nothing could violate the rules of political correctness more than being anti-condom like I was. But I had my reasons.
My girlfriends and I have always been bisexual. All of them, and I, had had many other partners of both sexes, always, or at least usually, adhering to the rules of safe sex. I of course assumed that the girl I would start to date around that time would demand I use a condom. We didn't have sex for quite some time into our relationship; we both had been around the block so many times, we wanted to hang out on the corner for awhile instead. 
Sex was inevitable though, and we both knew it, given the instant and intense attraction we shared for each other. And like we had with all of our other partners—we were safe. I was so used to condoms at that point they were second nature. But that didn't make me hate them any less.
Still, I'd never even considered fucking without them. 
In the early 1990s, my friends and I had said goodbye to many who had succumbed to AIDS; one friend who was still alive, was declining fast and my new girlfriend joined me in taking care of him at the hospice. It was a slow ugly death.
My girl and I were getting close to being together for a year. As we neared that milestone, we also neared the milestone of safe sex monogamy. She said yes, and I did too. It was as simple as that: we wouldn't be with anyone else unsafely, and if we were, we had to be honest about it.
I was pleasantly surprised when she asked that we get tested for HIV—because she hated condoms. 
Both of us tested negative. But smartly, she, nor I, tossed out all of our condoms; instead, we waited four more months and got tested again. When we both tested negative again—we hailed the first cab and commenced the most intense intimate relationship I had ever had. We didn't used condoms, which in my case meant I could keep it up. Condoms always made me go sort of soft. Condoms also made it nearly impossible for me to cum. Women loved it because, if could keep it up, I could go for hours without cumming. Fun for them, but after awhile, not for me. But without a condom, not only did it feel transcendent for me, she said it felt death defying for her because the latex in condoms irritated her, made her dry, and also made it hard for her to climax. 
I was well aware of the risk I was taking. Trusting another person to be 100% safe, given we were in our early 20s, was more than a risk, it was Russian roulette. But I went with it—until I got hit by a bullet. She had unprotected sex with someone else. As bisexuals, it was ok to be with someone else, as long as it was discussed in advance—and was safe.
I stupidly forgave her and after awhile we started having safe sex again. I got tested on my own after a few months and was thankfully negative. I didn't bother asking her to get tested because I knew I would never have unsafe sex with her again.  
Problem was, now condoms were killing us because they were a reminder of the event that made us bring them back into the picture. Every time I rolled one on, I was thinking about trust, AIDS, and anger.
Ultimately, I needed to find someone else who was serious about safe, trustworthy—and hot. And after a few sulking months on my own, I met a bisexual girl who was mature enough to established very clear relationship rules with me. The first one was that this would be a safe sex relationship: safe with me and safe with others.
Then the time came when I had to admit it: I hated condoms.
That's when the fun began. She led me through an amazing exploration of all kinds of lubes and types of condoms. She showed me how hot it felt when she put it on for me. She taught me about the new extremely thin condoms—that were hotter for me and her and were so thin that during sex it didn't feel like I had one on. 
After months of stunning sex, I could honestly say that I was cool with condoms. But not for any political or being a responsible partner reasons. For me, the new condoms, my girlfriends excitement about them, plus my trust in her was a game-changer. That, and I could finally go for hours and still have utterly amazing orgasms.—Jake C., New York City
I've been a bartender in a few gay bars back when I lived in LA. There, if you were a female, getting hit on was par for the course, but no one pushed so hard it weirded you out. Now I'm working at a straight bar in New York. My first. I'm stupidly not out yet at my new job, and like any bartender's boss, my new boss hired me most likely because of my long blond hair, nice tits, and hot ass (as well as my experience behind the bar). Their are two reasons I don't come out: one, the guys who drink there would go nuts in their frat boy girl on girl fantasies; two, ever since I started, my bar is packed, which is the goal behind hiring me.
Q: You're not out at your new job, and you think coming out will either get you fired or get you hassled by lesbian-loving men.
A: First, don't say, "stupidly" again, many of us who have been out for decades have kept our sexuality quiet at the job for a whole host of reasons. 
"Ten years. That's how long I'd been out—but not at work," Terrance of Dallas told us. "I'd have been accepted had I came out, but I just didn't want to. Everyone knew, but no one ever said a thing. Still, I felt that if I came out people would start looking at me and thinking about one thing: how I had sex. That, and I am one of those people who feels strongly that sex and work don't mix. I never see or hear straight people openly talking about what they do in bed. Sure, they can talk about their boyfriends and girlfriends, but it was just my choice not to go there."
Julia from San Francisco said, "Living here in what some think of as the gay Mecca, you'd think there would be no problems being out at work. Well, there are—and not just for me, but for many of us. That said, I just did it, I came out at every job I ever had. To some, I was merely regarded as one of those gays from that part of town. I can only imagine what the young men were thinking. I know there are laws all across the U.S. to protect us from on the job discrimination, but all it takes is three warnings tagging me for this or that mistake at work to easily get rid of me. The bottom line for me? There was nothing more awesome than getting on top of all of it. No cowering, no shame, no worries about being gay."
I have definitely been there, " James from Nashville told us. "I was out everywhere but my job. I was so out you'd think the entire world would have known. But my boss didn't. Or at least he didn't act as though he did. Worse, he'd make all sorts of slight gay jokes. Not outright, but enough to get grins on the faces around the table at meetings. Before I could get too sick of it, I decided I was way too gay to take it. A few weeks passed and there we were, sitting and watching him talk—when he did it again. This time he referred to one of my colleagues as light in the loafers. I must have snapped three times in my head because I just belted out, 'Mine, honey, are so light I can hardly take this anymore.' Everyone in the meeting just froze for a long minute. The good news was that, without acknowledging my sexuality, he apologized to me and continued the meeting. He never did that again in my presence and everyone knew: I was gay."—N.B.
"
As for my sex life, I guess you could say I take the lead: I make the first move from beginning to end, from the hello to the goodbye. Sometimes, however, I get off on letting my dates just do whatever they want to me. It usually involves me looking down while they're doing a good 'job.' If you're a top and you haven't just let the man in your life feed off of you, cock worship you, or get off on Daddy letting him have his way—for once—then you haven't lived because it's one hell of a turn on."
"Brent L., San Francisco, CA