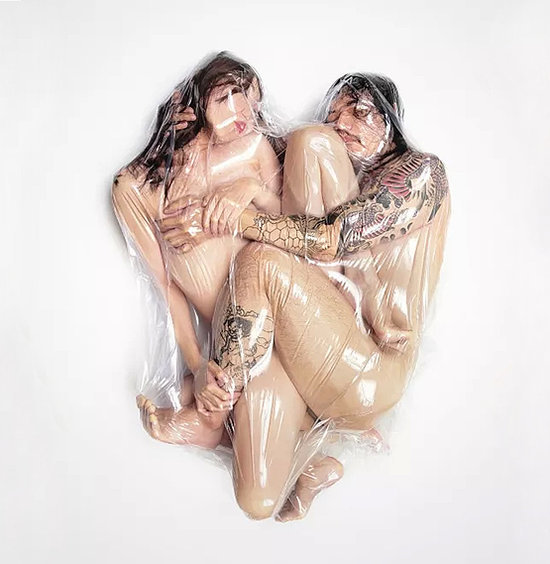 Nothing could violate the rules of political correctness more than being anti-condom like I was. But I had my reasons.
My girlfriends and I have always been bisexual. All of them, and I, had had many other partners of both sexes, always, or at least usually, adhering to the rules of safe sex. I of course assumed that the girl I would start to date around that time would demand I use a condom. We didn't have sex for quite some time into our relationship; we both had been around the block so many times, we wanted to hang out on the corner for awhile instead. 
Sex was inevitable though, and we both knew it, given the instant and intense attraction we shared for each other. And like we had with all of our other partners—we were safe. I was so used to condoms at that point they were second nature. But that didn't make me hate them any less.
Still, I'd never even considered fucking without them. 
In the early 1990s, my friends and I had said goodbye to many who had succumbed to AIDS; one friend who was still alive, was declining fast and my new girlfriend joined me in taking care of him at the hospice. It was a slow ugly death.
My girl and I were getting close to being together for a year. As we neared that milestone, we also neared the milestone of safe sex monogamy. She said yes, and I did too. It was as simple as that: we wouldn't be with anyone else unsafely, and if we were, we had to be honest about it.
I was pleasantly surprised when she asked that we get tested for HIV—because she hated condoms. 
Both of us tested negative. But smartly, she, nor I, tossed out all of our condoms; instead, we waited four more months and got tested again. When we both tested negative again—we hailed the first cab and commenced the most intense intimate relationship I had ever had. We didn't used condoms, which in my case meant I could keep it up. Condoms always made me go sort of soft. Condoms also made it nearly impossible for me to cum. Women loved it because, if could keep it up, I could go for hours without cumming. Fun for them, but after awhile, not for me. But without a condom, not only did it feel transcendent for me, she said it felt death defying for her because the latex in condoms irritated her, made her dry, and also made it hard for her to climax. 
I was well aware of the risk I was taking. Trusting another person to be 100% safe, given we were in our early 20s, was more than a risk, it was Russian roulette. But I went with it—until I got hit by a bullet. She had unprotected sex with someone else. As bisexuals, it was ok to be with someone else, as long as it was discussed in advance—and was safe.
I stupidly forgave her and after awhile we started having safe sex again. I got tested on my own after a few months and was thankfully negative. I didn't bother asking her to get tested because I knew I would never have unsafe sex with her again.  
Problem was, now condoms were killing us because they were a reminder of the event that made us bring them back into the picture. Every time I rolled one on, I was thinking about trust, AIDS, and anger.
Ultimately, I needed to find someone else who was serious about safe, trustworthy—and hot. And after a few sulking months on my own, I met a bisexual girl who was mature enough to established very clear relationship rules with me. The first one was that this would be a safe sex relationship: safe with me and safe with others.
Then the time came when I had to admit it: I hated condoms.
That's when the fun began. She led me through an amazing exploration of all kinds of lubes and types of condoms. She showed me how hot it felt when she put it on for me. She taught me about the new extremely thin condoms—that were hotter for me and her and were so thin that during sex it didn't feel like I had one on. 
After months of stunning sex, I could honestly say that I was cool with condoms. But not for any political or being a responsible partner reasons. For me, the new condoms, my girlfriends excitement about them, plus my trust in her was a game-changer. That, and I could finally go for hours and still have utterly amazing orgasms.—Jake C., New York City